NON-FLAMMABLE EPS SANDWICH PANEL
NON-FLAMMABLE EPS SANDWICH PANEL
In life, explosion is something that no one wants, but there are risks that can still happen. With panel eps non flammable is produced under the process of advanced technology not only bring great advantages but also aesthetic. EPS panels non flammable are specialized materials used in building workshops, works, warehouses ... are many people favor about this product.
Technical Specification
No

Items

Specifications

1

Structure

+Both Outsides: Galvanized and color powder coated coil: 0,35mm to 0,45mm

+Middle layer: Non-flammable EPS with density: 11 to 40kg/m3
* Normal non-flammable EPS Sandwich Panel:
Coil-thickness: 0,35mm to 0,45mm
Non-flammable EPS density: 13 to 14kg/m3
* Other kinds will receive order with bulk

2

Width

+Inside wall panel:
Used size: 1.000mm
Product size: 1.030mm
+Outside wall Panel:

Used size: 1.000mm
Product size: 1.050mm


+Roof Panel:

Used size: 1.000mm
Product size: 1.070mm

3

Length

+According to the customer's order ( <15,0m due to transport)

4

Thickness

+Wall panel: 50mm, 75mm ,100mm

+Roofing panel: 50/85mm, 75/110mm, 100/135mm

5

Color

+Accroding to Color Powder Coated
-Inside wall panel: Ivory, milk-white

-Outside wall panel: light grey, dark grey
-Roof panel: Blue, Ocean


6

Installation

+Wall panels jointed together by outer leaf and internal leaf

+Roof panel jointed together by waterproof joint

7

Application

+Making outside wall panel, inside wall panel, ceiling panel, roofing for building, factory, storage, clean room, cold storage,…..
Characteristics of non-fire eps panel:
Replacing normal EPS core into non-flammable EPS core which is not able to catch fire, rising advantages like: light weight, insulation, non-flammable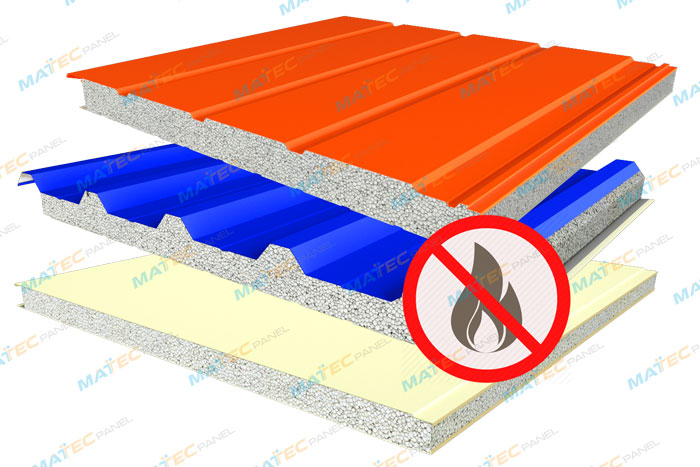 +Types: Roofing panel, inside wall panel, ceiling panel, outside wall panel,…using materials like: normal EPS foam core
+Application: Inside wall panel, outside wall panel, ceiling panel, roofing for factory, living building, storage,….to reduce the likelihood of fire spreading…
Picture complete works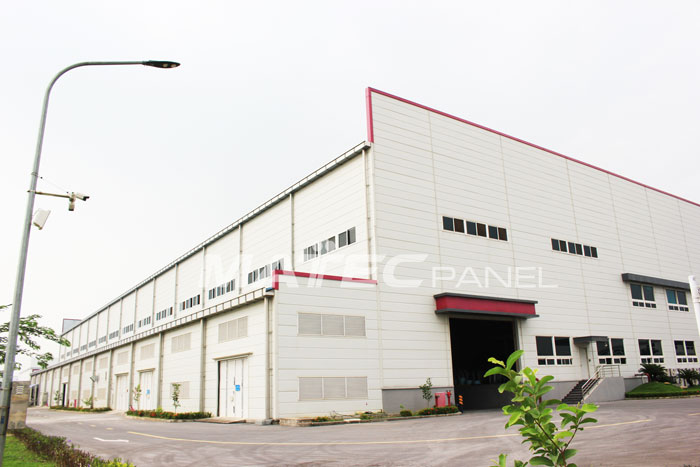 Product specification:
+Chart: length: According to the customer's order
Fixed width: 1.000mm
+Thickness options: 50mm, 70mm, 100mm
Contact information
Office: 4th floor, Zen Tower, No.12 Khuat Duy Tien, Thanh Xuan, Hanoi
Factory: Km 06, 379 Province Road, Tan Tien, Van Giang, Hung Yen
Hotline: 0903 246 111 | Phone: 024 6288 4782 | Email: matecpanel@matecgroup.vn
Website: matec.com.vn - matecpanel.com.vn
Other products