GLASSWOOL SANDWICH PANEL FOR ROOF
GLASSWOOL SANDWICH PANEL FOR ROOF
Glasswool sandwich panel for roof is a building material with reasonable price, reducing the installation cost brings aesthetic. Formed from fiberglass combined with two layers of galvanized aluminum alloy, color coated to make glass panel products both durable beautiful and high fire resistance.
Technical specification
No
Items
Specifications

Structure

+Both outsides: Galvanized and color powder coated coil: 0,4mm to 0,5mm
+Middle layer: Insulation Glass wool panel core's density: 48kg/m3 to 64kg/m3



2

Width

+Used size: 1.000mm
+Product size: 1.080mm

3

Length

+Depend on the customer's order ( <= 15,0m due to transport)

4

Thickness

+50/85mm, 75/110mm, 100/135mm




5





Color

+Variety of colors
+Under layer: Ivory, milk-white
+Upper layer: Blue, Ocean, Light Grey, Dark grey
* Other colors: receive order with bulk

6

Installation

+Ceiling panels jointed together by waterproof joint

7

Application

+Heat proofing roof panel is used for buildings, factory, storage, living building, office site, school...
The outstanding features of insulation Glasswool Sandwich panel for roof
+Are capable of remarkable insulation, waterproof, non-flammable,…have advantages comparing with the traditional products.
+Used to roof for storage, living building, factory, prefabricated building, trailer.
+Having high aesthetic value, can reuse many times
+Having high bearing capacity
Product structure:
Type 1: 05 WAVES ( code:ROOF-01)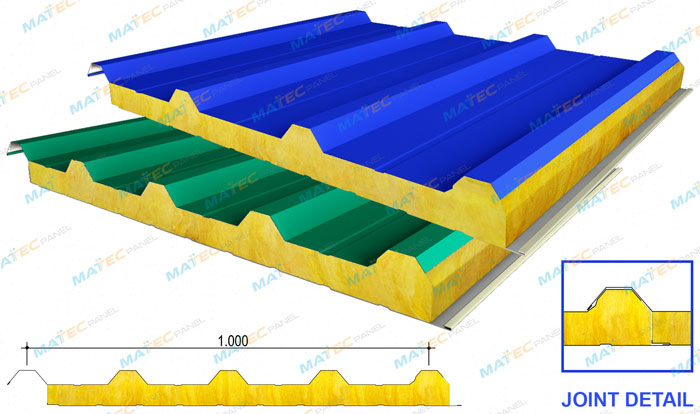 Application:
Used to roof for building with high requirements such as: seafood processing plants, electronic, medicine, food,…living house, office building, school,… Some of the outstanding features like: heat proof and sound proof, saving electrical power, safe and durable.

Some product images at the factory

Some pictures complete works


Product specification:
+Chart:
Length: According to the customer's order
Fixed width: 1.000mm
+Thickness options: 50mm, 75mm, 100mm
Contact information
Office: 4th floor, Zen Tower, No.12 Khuat Duy Tien, Thanh Xuan, Hanoi
Factory: Km 06, 379 Province Road, Tan Tien, Van Giang, Hung Yen
Hotline: 0903 246 111 | Phone: 024 6288 4782 | Email: matecpanel@matecgroup.vn
Website: matec.com.vn - matecpanel.com.vn